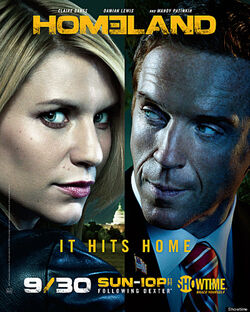 Season 2
of
Homeland
comes back to Showtime in less than a week! The series returns with a slew of well deserved Emmy wins under its belt too, along with an audience intrigued by what the next run of episodes holds for
Carrie
,
Brody
.
The possibilities are fascinating! Here are some predictions about what the future can hold for Homeland. Be sure to chime in with your own predictions in the comments below!
Predictions
Season Preview
Homeland show runners have confirmed that Carrie's and Brody's relationship will remain in the forefront of Season 2.
While Claire Danes's real-life pregnancy fueled some speculation that Carrie could be expecting in Season 2, it has been confirmed that Danes' pregnancy will have no effect on the series.
Like Navid Negahban, Jamey Sheridan is returning to Season 2 as a series regular. Expect a good deal of political drama with Walden during the show's election.
Season 2 Trailer
Poll
Will you be watching the premier?