Leo Carras is a minor character introduced in Season 3 as a boy troubled by mental health issues, who has been residing at the Rehabilition clinic. There he meets Dana Brody, after her attempt at suicide, they then quickly become aquainted and form a romantic relationship, which seems to concern Dana's mother, Jessica.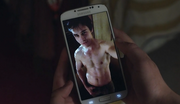 Biography
Tin Man is Down is when audiences are first introduced to Carras. An angsty adolescent boy, that shares the same cynical view of councelling methods as Dana. He also managed to keep his cell phone hidden, revealed later in the episode, which is not allowed on the facilities grounds. 
In the episode Uh... Oh... Ah... he is awoken by an emotionally distraught Dana, letting her break into the clinic. After comforting her, they have sex for the first time.
Leo is tall and has short dark brown hair and brown eyes.
Behind the Scenes
Appearances
Ad blocker interference detected!
Wikia is a free-to-use site that makes money from advertising. We have a modified experience for viewers using ad blockers

Wikia is not accessible if you've made further modifications. Remove the custom ad blocker rule(s) and the page will load as expected.