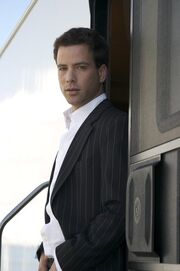 Jonah Lotan
is an Israeli actor who portrayed
Rudy McCoy
 on
Homeland
.
Early Life
Jonah Lotan was born Yair Lotan in Jerusalem, Israel on July 3, 1973, and grew up in Jerusalem and New York. He served for three years in the Israeli Defense Forces during the 1990s.
Career
Jonah Lotan first appear in 1997's Israeli film Itha L'Netza, under his real name, then he apepears in many films, before he starred as Joe Farnetti in Foyle's War, a British drama set around real-life war stories in which characters must wage personal war amid the chaos of an actual war. He stated that his character in Foyle's War reminded him of a friend in the military who had an ability to see humor in any given situation. He voiced the lead role in the 2001 video game Operation Flashpoint: Cold War Crisis, as David Armstrong, a U.S. Army soldier serving in the Cold War. He starred in the 2001 film, The Pool as Chris, starred as Kenny in the 2004 television series NY-LON, and starred next to Keira Knightley as an intern in 2005 film, The Jacket. Lotan also starred in the fifth season of 24, as Spenser Wolff, and had a guest role on CSI: NY as Marty Pino, a doctor/serial-killer. Lotan starred as Jesse in the 2006 film, One Night with the King, in which he stars as Jesse, and starred in the 2006 television film, The Beyond, centering NASA scientists at a jet propulsion laboratory during a global crisis. Lotan starred in the 2008 HBO historical war drama Generation Kill, as Robert Timothy Bryan, a U.S. Navy corpsman. He was also cast for the lead role in David Milch's HBO pilot Last of the Ninth.
Ad blocker interference detected!
Wikia is a free-to-use site that makes money from advertising. We have a modified experience for viewers using ad blockers

Wikia is not accessible if you've made further modifications. Remove the custom ad blocker rule(s) and the page will load as expected.