Jessica "Jess" Brody (née Lazaro) is Nick Brody's wife and the mother of their children, Dana and Chris.
While Nick was missing for eight years, she began a relationship with his friend Mike Faber.
Biography
Edit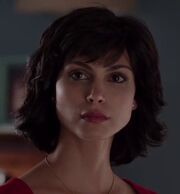 Jess and Brody knew each other from when they were at least sixteen, as learned in "In Memoriam". 
At Brody's return to the 'States, she is seen having an affair with Mike Faber, very much surprised to receive a phone call from her husband, Nick Brody, who went missing in actions eight years earlier and had been presumed dead. 
Personality
Edit
Jessica is a caring mother who has had a difficult time raising her two children as a nearly-single mother. She's religious, as she attends church regularly, and does not respect the Muslim faith Brody brings back with him, as witnessed when Jessica learns of it and throws his Quran onto the garage floor in the second season premiere.
At a glance and in front of the world, she can play charades with herself and them, masking her true feelings behind her. Jessica values honesty and loyal behavior, and she does not do too well hiding how she truly feels around people who know her, likely the reasoning for why and how Brody was able to figure out that she had been having an affair, as well as the explanation for Mike's overprotective behavior regarding Jessica.
Though she seems fragile, she is strong and tries extremely hard to keep her family together.
Personal life and relationships
Edit
Jess has a strained relationship with her eldest child, Dana.
When Helen Walker remarried, Jessica strongly disapproved because she thought it reflected lost hope.
Laura Fraser was originally cast to play Jessica. Morena Baccarin replaced her shortly after the cancellation of the ABC series V. (Deadline.com)
External links
Edit