Dana Lazaro (formerly Brody) is the daughter of Nick and Jessica Brody and the elder sister of Chris and half sister of Frannie Mathison.
Biography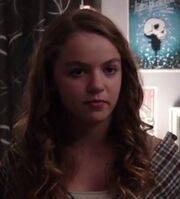 Personal life and relationships
She has a strained relationship with her mother, who believes she is being intentionally difficult.
She had kept her father's secret observance of Islam to herself, strengthening their familial bond, until making a shocking statement at school which led to a family confrontation that ended with Nick's admittance of this fact to Jessica.
It was Dana's call to her father, at Carrie's urging, that backed him down from going through with the suicide bombing.
Dana has a boyfriend named Xander, with whom she was caught smoking marijuana by her mother. She has formed a friendship with Finn Walden, son of the Vice President, and wishing to take things further has stated her intent to break things off with Xander.
Dana is in a dilemma as she contemplates on bringing out a secret she keeping with her friend; the son of the vice president.
She changed her last name to Lazaro stemming from her mother's maiden name as an effort to change her identity from Dana Brody who she claimed she could not live as anymore.
Behind the Scenes
Appearances
External links